IT'S MORE TO US, IT'S PERSONAL
When a child cries, it pains something within all of us. To see a child hurt or in pain makes us want to take action and make things better for them. When it's a simple knee scrape or paper cut, a quick fix might be all your child needs. But if your child's injury is more serious and was caused by someone else's careless actions, you will need to consider the steps you need to take to defend your child's rights.
When your child has been injured, it's difficult to deal with, and that's why we won't let you go through it alone. While you focus on the recovery of your child, we'll focus on the recovery of your settlement from insurance companies and the responsible party. The best thing you can do for your child in these situations is to show them that their parent cares for them and is willing to do what it takes to protect them, including seeking legal advice from a child injury lawyer at Wettermark Keith. All it takes is one initial consultation.
TYPES OF CHILD INJURY CASES
It's hard to think of the many types of cases that might inflict injuries to children, but if your child is injured, it can be a comfort knowing there are legal actions you can take. Each injury lawyer at Wettermark Keith has helped families through some of the toughest parts of their lives in the following case types:
Child abuse and neglect

Negligent supervision

Playground accidents

Pool accidents

Premises liability

School bus and school crossing accidents
If your child has suffered injury or death in any of these or other circumstances, please call our law firm. A free consultation is the first step in getting your family the financial compensation you need.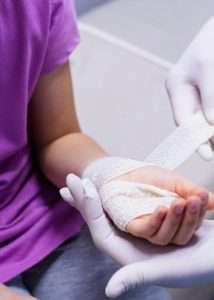 HOW IS A CHILD INJURY CASE DIFFERENT?
Generally, a child is entitled to the same compensation as an adult when injured, including medical expenses incurred by the family and the potential for future lost wages due to disability. However, a minor cannot seek this compensation for themselves, and must instead depend on a guardian to file the case for them. Additionally, in most personal injury cases, the degree of responsibility expected for children is less than that expected of adults in the same situation. In short, a child injury case will have its own challenges and should be handled by a legal professional with plenty of experience.
CHILD INJURY LAWYER: WETTERMARK KEITH
Many of our injury attorneys are parents themselves, so they can sympathize with what you're going through. Parent or not, each child injury lawyer in our law office has seen the pain that accidents like these can cause families, and they're willing to do whatever it takes to bring your family peace through justice. Don't put it off any longer and risk reaching the statutes of limitations. Schedule a free consultation, and we can start working on your child's personal injury case and forming an attorney-client relationship.