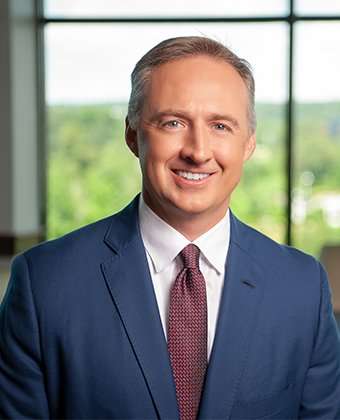 From the Panhandle to Magic City:
with Chris Keith, It's Personal.
Committed. Genuine. Sincere. This is how clients and colleagues alike characterize Chris Keith, leading and founding partner of personal injury firm Wettermark Keith. As the firm's public face, Chris portrays a spirit of thoughtful, concerned professionalism in each of his advertisements. You can spot Chris on the highways of Alabama, Tennessee, and Florida. At Barons games, his face lights up the screen.
Since 2001, Chris Keith has been an asset to the Birmingham community. His numerous multi-million dollar settlements and jury verdicts on behalf of accident victims throughout the Country, have earned him accolades and recognition from media outlets and peer-reviewed selection committees. A member of the Alabama, Florida, Mississippi, and Tennessee Bars, Chris has been elected to Super Lawyers more than fourteen times for peer recognition and professional achievements, and his results for clients have been featured in local and national news outlets throughout the Southeast.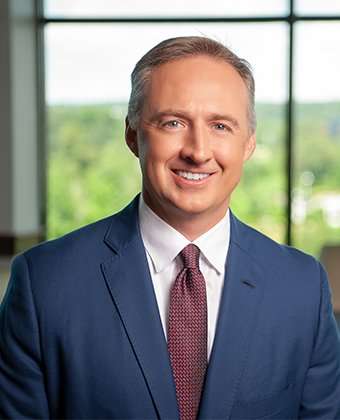 Breakout Star of Panama City
Born in sunny Panama City to a truck driver/mechanic and a bank teller, Chris recalls the feeling that higher education and law school were for "other folks." Raised in an environment where lawyers were few and far between, Chris would be the first college graduate in his immediate and extended family. Initially, as a young teenager focused more on working and the "beach life,"  Chris gave little thought to his future, much less education. His parents and peers figured he would go the military route, like his grandfather.  Not many could have predicted the dedicated focus that would mark his meteoric rise in personal injury law.
The summer and fall after his high school graduation, Chris continued working in jobs he had held throughout his high school career, including working in hot attics for a heating and air conditioning company.   This experience led to an awakening for Chris, leading him to think, that maybe there could be "another way" for him to take. The spring semester after his high school graduation, Chris enrolled at Gulf Coast Community college, where he realized "he could do this."  Employed at Publix as a produce clerk, Chris worked his way through two years of community college and eventually enrolled at the Florida State University Panama City Campus, where he began pursuing a degree in criminology. Chris considered joining an air force OSI or FBI unit after graduation. However, his interests soon diverged.  By his junior year at FSU, Chris was recognized as an academic and a leader. When his peers elected him president of the Garnet Key Honor Society, it changed the course of his career. Tasked with presenting to diverse groups in and out of FSU, Chris discovered he was a natural public speaker, and enjoyed using his platform and position to address the needs of those around him. When he realized law school might, in fact, be for him, the idea took on a life of its own.
Coffee Grounds and Cumberland
While visiting law schools throughout the Southeast, Chris became captivated by Samford University's campus and decided to spend his next 3 years at Cumberland School of Law in Birmingham, Alabama. He remembers this period as one of the toughest and most rewarding experiences of his life. While Chris -  like most first-year law students - was initially intimidated by the demanding classes and intense workload, he thrived through hard work. Chris recalls participating in study groups with similarly-driven classmates and downing coffee grounds to keep him awake during long nights in the library. By year three, Chris was elected chief editor of the Cumberland Law Review, an honor highly sought after by every law student. After years of memorizing legal precedents and poring over dry texts, Chris earned his J.D. with honors, graduating in 2001 as a member of the Order of the Coif, a respected legal honor society.
Having grown up "blue-collar" and from the school of hard-knocks, Chris had seen firsthand the need for good trial lawyers to uphold the rights of hardworking people. Knowing his heart would never be on the defense side, Chris rejected lucrative clerkships and job offers from high-paying, prestigious defense firms in Florida and Alabama, choosing instead to join Burge & Wettermark, a plaintiff firm in the center of Birmingham with a specialty for representing injured railroad workers under the Federal Employers Liability Act (FELA).
Chris maintains today that the opportunity to work for Frank Burge and James Wettermark was worth any pay cut. Burge and his partner, James Wettermark, gave the ambitious young lawyer opportunities he wouldn't have received anywhere else.  Specifically, trial by fire. The summer before Chris was admitted to the bar, Frank Burge approached him during a study session and asked him to take a deposition before Chris was even licensed to practice law. Two weeks after passing the bar, Chris successfully tried his first court case. In six months, he was trying multi-party federal cases throughout the country. Between client relations, trying cases in courtrooms across states, and courting business at union meetings, Chris excelled not only because of his industry and sharp trial skills but because he was able to put himself in his client's shoes and speak to them from the heart. Chris understood he was often his clients' last recourse after a devastating injury, the champion standing between them and abject poverty.
Thinking back to those first years, James remembers Chris as a "shining star" who took to the demands of personal injury law "like a duck to water." During a trial in Cincinnati, James informed Chris over breakfast that he planned to start his own practice and wanted him to come on as his partner. Knowing this was risky for someone only two years out of law school, Chris waived his doubts and seized the opportunity for financial and professional growth. It wasn't long after their formation of the new firm that Chris won his first million-dollar jury verdict.
Chris and James established Wettermark Keith in 2003, setting up shop in a cramped two-office suite in downtown Birmingham. They set out three core principles. Chris summarizes it best: "treat people as you would want to be treated. Do what you say you're gonna do. Finally, work hard, and everything else will take care of itself."  As Wettermark Keith grew in means and reputation, the partners hired more attorneys and expanded their practice areas. The firm's exponential growth led to the establishment of more than half a dozen offices in Alabama, Tennessee, and Florida. James continued to travel to different states to represent FELA railroad cases, while Chris focused his attention on growing the firm's other practice areas. The partners' accomplishments have been lauded by numerous media outlets, including the Birmingham News, Birmingham Business Journal, Louisville Courier-Journal, Atlanta Journal-Constitution, Cincinnati Enquirer, The Telegraph, and NPR. Chris and James - put off by the garish, money-centric marketing of other firms - made sure their advertising was both tasteful and genuine, in keeping with the integrity of the profession. Wettermark Keith's dignity in advertising and single-minded focus on clients continue to set them apart today.
As of April 2020, Wettermark Keith is headquartered on the top two floors of the Bruno Capitol Building off Grandview Parkway, near-luxury apartments and a major medical center. More than 25 attorneys carry out the firm's mission, accompanied by nearly 100 dedicated support staff. No case is too small or too big. The firm wins thousands of cases each year,  for its personal injury clients, automobile wreck clients, workers comp clients, FELA clients, and social security clients - to name a few.
When you take the elevator to the fourth and fifth floors, you can sense the firm's culture of compassionate service. You can hear the tones of understanding from case managers and paralegals as they speak with clients, and watch attorneys labor for months on end to ensure their clients are well-represented and provided for in one of the most difficult periods of their lives. Without exception, clients of Wettermark Keith are treated like family, with care and dignity.
Chris's humble beginnings and blue-collar background helped establish this culture, and he has worked for years to preserve it.
Home and Heart: Looking Ahead
Chris has ongoing plans to expand the firm's reach in both the market and practice areas, holding the view that "if you're not growing, you're dying." Chris recently opened an office in his hometown of Panama City, in order to give back to the community that gave a lot to him. He said, "At some point, I thought I'd always be back in Panama City. Birmingham has become home, and Panama City is home and heart. I thought the opportunity was there for us to serve the market, and the folks that need good representation, which I believe we can provide."
Over the last 20 years, Chris has tried and handled a wide variety of cases ranging from car wrecks, eighteen-wheeler/trucking wrecks, motorcycle wrecks, railroad incidents, premises liability, medical malpractice, product liability, nursing home neglect, and the list goes on. He is well known regionally and beyond, respected by his peers within the State Bars and judiciary, and beloved by thousands of clients. While Chris loves what he does, he makes work-life balance a priority. When not at the office, he's likely working up a sweat at the gym or at a hot yoga session. When he does have spare time outside of work or exercising, you will find him piloting his plane (yes, he is a private pilot in addition to all of the other accomplishments) or enjoying water activities such as fishing or diving in tropical waters.  When asked about what makes him the proudest, Chris answers without hesitation, "My three kids."  Chris is known throughout the Birmingham area as "Coach Keith," having spent numerous years coaching his kid's youth sports teams. Now teenagers, Landon (17), Braxton (15), and Adeline (13), are truly the sparkle in Chris's eye, and he has no hesitation in bragging about their accomplishments and achievements.
you won't pay us anything until we've won your case