IT'S MORE TO US, IT'S PERSONAL
Expert Motorcycle Accident Attorneys in Birmingham, AL
Call Our Birmingham Motorcycle Accident Lawyers for Justice & Peace of Mind
You never forget your first ride on a motorcycle. Sights and smells assault your senses as your surroundings blur and the wind whips through your hair. Unfettered by a metal cage, you race down open roads and treacherous curves at exhilarating speeds, leaving your worries behind. It's the closest most people come to flying. Adrenaline and sensory overload can make you forget the danger you're in - until a car merges into your path, and you're going too fast to stop in time. They swear they didn't see you. 
The stereotype for motorcyclists is that they're young and careless, fond of drinking and speeding under the influence. In contradiction, the average Birmingham motorcycle rider is 48 years old with an $85,000 income, and no more likely to drive drunk than any motorist. Regardless, motorcycles are far over-represented in Alabama accident statistics. Nationally, they are more than 5 times more likely to be hurt and 26 times more likely to die in a traffic accident than someone in a car. 
Even the strongest helmet offers far less protection than an airbag - lacking the protection of strong metal, a windshield, or a seatbelt, any collision can be fatal to a motorcycle rider. While Birmingham drivers are required by law to treat motorcycles the same as any other vehicle, too often they behave negligently, putting riders at risk for death or serious injury. 76% of fatal accidents involving motorcycles and cars result from a head on collision. 
WE CAN HELP TELL YOUR STORY.
Common Causes of Birmingham Motorcycle Accidents
It's important to take note of the most common causes of motorcycle crashes, in order to stay alert and aware while enjoying a ride on your bike. While there are a variety of ways an accident can occur in Birmingham, the following factors are most often responsible for collisions and injury: 
Reckless Driving 
In Birmingham, reckless driving - perpetrated by either party - often leads to catastrophic damage. Reckless behavior by motorcyclists can include swerving in and out of traffic, driving on the lane divider lines, or disregarding traffic laws - such as the speed limit or stop signs. For motorists, reckless driving can include speeding, distraction, failure to check before turning, and failure to use turn signals. 
Driving under the influence 
In the United States, drunk driving claims 32 lives every day. Alabama's rate of drunk drivers exceeds the national average. A large percentage of Birmingham motorcycle crashes involve drunk driving. With any motor vehicle, the ability to focus on the road is essential for your own safety and that of others. Drugs and alcohol dull your cognitive performance and impair your response time, increasing the likelihood that you or another will be seriously injured in an accident. If you are the victim of a DUI in or near Birmingham, Alabama, contact a Wettermark Keith motorcycle accident lawyer immediately.
Inexperience 
National accident statistics link inexperience  to greater crash likelihoods among motorcycle riders. Experience is essential to navigate dangerous roadway situations - a new or inexperienced motorcyclist is not prepared to drive defensively or decisively. Seasoned motorcyclists  understand the hazards of different driving circumstances, and are better prepared to avoid them. Gaining experience by driving in lighter traffic and low-stakes situations can reduce the likelihood of a devastating motorcycle crash. 
If you were involved in a motorcycle crash due to any of these circumstances, or any others not mentioned, contact a motorcycle crash attorney at Wettermark Keith today to help you file a claim in the Birmingham area. 
How Motorcyclists Can Help Prevent Accidents
When it comes to avoiding motorcycle accidents, knowledge is key. Realizing how common these accidents are may help you keep your guard up and avoid injury. 
As stated previously, motorcyclists are 5 times more likely than a car or truck passenger to be injured on the road and 26 times more likely than a car or truck passenger to be killed in a crash. However, it's important to note that on the whole, motorcycle riders hold some responsibility for these accident rates. In 2020, 28 percent of motorcyclists killed were drunk, and 30 percent of injured motorcyclists did not have a valid motorcycle license.
Like any car, truck, or boat, there is a legal limit to the amount of alcohol one can legally drink when choosing to operate a motorcycle. If you plan on going to the bar, lawyers and law enforcement would agree that the safest course of action is to leave your motorcycle at home. Furthermore, Alabama law requires you to obtain a Class M license before riding any motorcycle on public streets.
If you've  been involved in a motorcycle crash, we encourage you to get in touch with a Wettermark Keith motorcycle accident attorney. Our attorneys have seen cases like yours before, and are dedicated to helping you claim the compensation you deserve.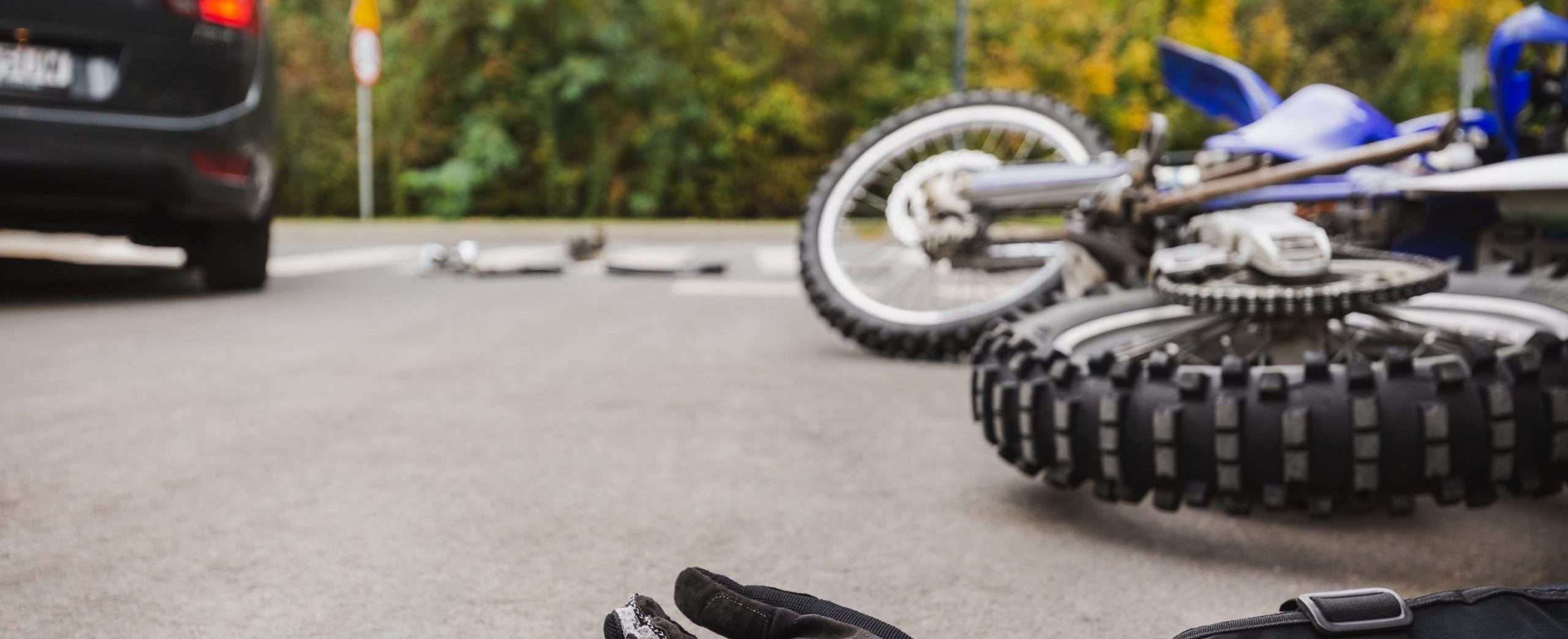 Common Birmingham Motorcycle Accident Injuries
Due to the size and structure of motorcycles, cyclists and their passengers are far more likely to be injured than those riding in an enclosed vehicle. Motorcycle accidents can cause a wide variety of horrific injuries, but the severity of these injuries depends on the safety precautions taken at the time of the accident. For instance, Birmingham riders who wear a helmet and drive the speed limit are less likely to receive severe injuries than those who break the law. The three most common injuries Alabama motorcycle accident victims sustain include:
Road rash 
Road rash is one of the milder forms of injury in a motorcycle crash, but, depending on the size and depth of the rash, it can quickly turn serious. Road rash is the abrasion of the skin against a hard, rough surface like asphalt. This results in a burning sensation caused by the opening of the skin. Road rash may take weeks or months to fully heal and can result in scarring.
Head and neck injuries 
Head and neck injuries are among the most feared motorcycle crash injuries because of their long-term impact. These injuries may result in the paralysis of different areas of your body or negatively affect your cognitive functioning for the rest of your life. Traumatic brain injuries (TBI) are caused by a sharp blow to the head. TBI is an extremely painful condition that can have long-lasting effects. Luckily, the likelihood of these head injuries does go down dramatically by wearing a helmet whenever you are riding your motorcycle.
Broken bones 
Strong impacts on a hard surface - like a concrete roadway - often cause broken bones. Most broken bone injuries from motorcycles occur in the legs or arms, but broken ribs are also common among motorcycle drivers. Broken bones can be mild or very serious. If you feel a sharp pain in a certain area and have limited mobility, avoid putting pressure on or moving that area and see a medical provider immediately. 
Wettermark Keith understands the stress that can result from severe injuries in a Birmingham motorcycle accident. To ease your mind and speed up your recovery time , contact a Wettermark Keith motorcycle accident lawyer. We want to help you get just compensation and give you one less thing to worry about.
What Damages Can You Claim?
When pursuing a Birmingham motorcycle accident case, it's important to know what damages and compensation you can claim. If your motorcycle or other property was harmed in the accident - as a result of another person's reckless actions or contributory negligence - you can claim property damage as part of your personal injury case. If you are unable to work because of your injuries, consider adding loss of wages to your motorcycle accident claim. You will receive the compensation you deserve to cover your and your family's basic needs while you recover.
If your healing process is made more difficult due to chronic, severe pain or a trauma disorder like PTSD, you may have a claim to pain and suffering. Pain and suffering refer to the unnecessary mental and physical anguish you have experienced of no fault of your own.
We know that medical expenses can quickly pile up in any case, but Birmingham motorcycle accidents can be especially expensive. You may be in the hospital for a long time, undergoing many procedures for which your insurance may only pay in part. Claiming medical expenses as part of your case will ease the burden on you and your family.
Furthermore, if your loved one did not survive the accident, know that you can still pursue justice in the form of a wrongful death claim. Wrongful death cases are based on the principle that without the actions of another, your loved one would still be alive. 
No matter the situation, when you're ready to pursue recovery through a motorcycle accident claim, we're here to help you. If you've suffered an accident in Birmingham, call our Wettermark Keith personal injury attorneys as soon as possible. 
Steps To Take After An Accident
Step 1: Report The Accident At The Scene - Call 911. 
In Birmingham, motorcycle accidents often lead to serious injuries or death at the scene. As a result, Birmingham law requires you to call the police at the scene of the incident. The police report of your accident can be vital documentation for your case. 
Step 2: Obtain Proper Documentation At The Scene Of The Accident. 
At the scene of the crime, it is pertinent to get documentation of the motor accident. If you are physically able, make sure to take any pictures of the incident, obtain a police report, and get the information of the other party involved and the witnesses at the scene. This information is essential for our Birmingham motorcycle accident lawyers to build a valid case in an accident claim. 
Step 3: Seek Medical Attention. 
If you need treatment for a motorcycle accident injury sustained on the scene of the accident, you need to see a doctor or go to the emergency room, for extreme or life-threatening incidents. When seeing a medical provider in Birmingham, AL, you must obtain your medical records for documentation of evidence for your claim. 
Step 4: Hire a Wettermark Keith Motorcycle Accident Attorney 
Contact Wettermark Keith to take the weight off your shoulders - we will do our best to assign you a Birmingham motorcycle accident lawyer to stand by you from start to finish. Our Birmingham motorcycle accident attorneys can help you with your motorcycle accident case through contacting various parties, navigating legal loopholes, and defending your rights. Call us at (977) 715-9300 for a free consultation to start your claim process as soon as possible. 
Why Hire Our Birmingham Motorcycle Accident Lawyers?
If you're injured in a motorcycle accident due to negligence or recklessness in the Birmingham, Alabama area, you may be entitled to compensation for your motorcycle accident injuries, your loss of work, your pain and suffering, or a loved one's wrongful death. Wettermark Keith has the experience to get you the compensation you need and will not hesitate to take your case to court if needed. Dealing with a motorcycle accident claim can be stressful and time-consuming, making it extremely hard to handle while trying to recover from an injury sustained in a crash. 
Our motorcycle accident attorneys will work with you to ease your recovery and secure your future. 
With offices located throughout Alabama, Tennessee and now Florida, Wettermark Keith has an excellent reputation as one of the most accomplished personal injury firms in the country. Our reach is not only regional, but it also includes a diverse range of practice areas, including motorcycle accident claims. Our purpose is to practice with care and compassion - to tell our clients' stories and make their voices heard. We do this by building strong relationships based on constant communication and an unwavering dedication to truth and trust. Winning motorcycle accident cases isn't our goal - caring for you is. Winning is just how we show it. Contact us to set up your free consultation with Wettermark Keith at (977) 715-9300 or through our online form or chat box. 
If our Motorcycle Accident Attorneys Don't Win Your Case, You Pay Nothing
If your Birmingham attorney fails to win your case, you do not pay us anything– guaranteed! With our attorneys, you have nothing to lose and plenty to gain. We ask for no legal fees unless we win your case. We choose to operate this way for the benefit of our clients. Our goal is for you to have the most successful recovery possible, so let us take care of the rest. 
At Wettermark Keith, Our Attorneys Care For Your Wellbeing  
When you're injured in a motorcycle accident, you shouldn't have to fight for your case alone; instead, contact one of our skilled Birmingham attorneys. Our commitment is to you first, which is why we don't require any payment unless we win your case. We believe that you deserve justice and the most compassionate, hard-working legal representation available. Don't let the statute of limitations pass by without taking action.
Contact us at (977) 715-9300, through our online form, or click the box on our website to chat with us online to schedule a free consultation to see if you have a Birmingham, AL personal injury case on your hands. 
There are many ways that a motorcycle accident can occur, yet the three most common causes of accidents in Alabama are reckless driving, driving under the influence, and lack of experience with a motorcycle. In 2019, 29 percent of motorcyclists killed were drunk, and 30 percent of motorcyclists did not have a valid motorcycle license. This shows how important it is to take the proper precautions when going for a ride on your motorcycle in order to avoid serious injury or the loss of one's life.