IT'S MORE TO US, IT'S PERSONAL
Construction Accident LAWYER IN Dothan: Helping You Navigate the Complexities of Workplace Injury Claims
Construction workers across the state regularly endure some of the toughest most dangerous job conditions in the country. The construction industry as a whole remains one of the largest forms of employment in the nation. Whether erecting bridges, office buildings, or parking structures, these workers are nearly always in danger of suffering a catastrophic injury. Although there are many safety regulations in place designed to protect workers, injuries do occur. Contact the expert Alabama construction injury lawyers at the law office of Wettermark Keith today if you or someone close to you has been the victim of a construction accident.
ALABAMA CONSTRUCTION ACCIDENT STATISTICS
Information gathered by the Bureau of Labor Statistics indicates that are about 7.2 million wage and 1.8 million self-employed workers in the construction field in the United States. For the calendar year 2008, workers specifically in Alabama suffered approximately 2,600 non-fatal injuries. Additionally, there were a reported 86 on-the-job fatalities that same year. These facts illustrate just how common workplace injuries are in the construction field. Sadly, a large number of these accidents could have been prevented if proper safety protocols were followed.
Of all accident types, the most common source of construction-related accidents in Alabama are:
Falls from Heights
Struck by Object(s)
Struck by Falling Object(s)
Exposure to Hazardous Energies
Vehicle Collisions
Caustic Substances
NEGLIGENT ACTIONS CAUSE ACCIDENTS
Negligent actions taken by other workers, foremen, managers, vehicle operators, or contracted employees have the potential to cause serious injuries. In some cases, these actions tragically lead to the wrongful death of one or more people. Injuries sustained by workers in construction accidents can include:
Chemical Burns
Loss of Hearing
Blindness
Brain Injuries
Speak with an experienced construction injury attorney at our law firm today if you have been injured or lost someone close to you. All too often claims of Workers' Compensation do not adequately meet the needs of the victims of these accidents. A claim of personal injury or wrongful death against the negligent party responsible may be the only way to recover financially from one of these accidents.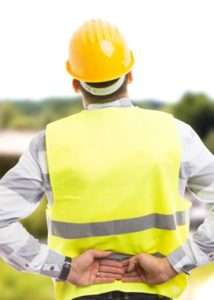 SERVING JUSTICE – ONE CASE AT A TIME
Here at Wettermark Keith, no case is too big for our expert construction injury lawyers to pursue. Our top attorneys represent each and every client with the utmost respect, compassion, and employ the thorough legal expertise needed to make their case a success. We realize that this is likely a difficult situation for you and possibly your family and are here for you.
If you have been injured or lost a loved one due to the negligence of another person in a construction accident, contact our seasoned injury lawyers today. Together we can seek a financial compensation figure that meets your needs as a victim and can continue to provide for your, long after this ordeal is over.
NO RECOVERY, NO FEE GUARANTEE
When selecting clients to represent in court, our firm operates on a contingency fee basis. What this means to our clients is simple: if we don't win your case, you won't pay anything. We choose to operate this way for the sole benefit of our clients, we want to see you obtain a successful recovery so that you can continue to carry on with your life.
Contact us today if you have been the victim of a personal injury or lost a loved one to a wrongful death after a construction accident. Fill out the free case evaluation form on our website and we will get back to you promptly. If you wish to speak to us directly, feel free to call our office most convenient for you.