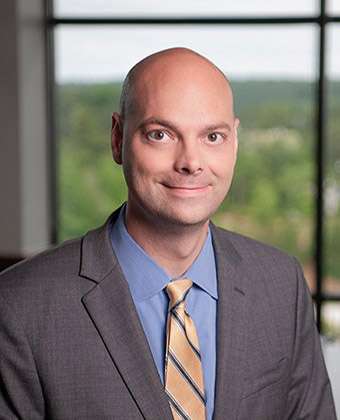 MANAGING ATTORNEY, WORKERS' COMPENSATION PRACTICE
Intro: Will has been a part of the Wettermark Keith family for over seven years now. His day-to-day includes overseeing a diverse practice of Tennessee and Alabama workers' compensation claims, as well as associated third-party personal injury actions stemming from on-the-job accidents. He has over a decade of litigation and trial experience, including extensive experience in mediation and alternative dispute resolution. 
Background: Born and raised in Birmingham, Alabama, Will attended Auburn University, graduating cum laude in 2001. Upon graduation, he began his studies at The University of Alabama in 2002, graduating with his Juris Doctor in 2005. Will obtained dual licensure in 2016, becoming a member of the Tennessee State Bar.
Will's "Why": In his own words, Will loves "the ability to help people during a dark time. Worker's compensation is not like any other field of law. It's unique in that medical treatment is dependent upon the Employer, as are temporary total disability benefits. People look to us to help them sort these issues of medical treatment and temporary indemnity so that their life can resume, and they don't have to worry about the power being turned off or not having enough food on the table. No other practice area is like that. It's an enormous responsibility. And we don't make a dime from handling those issues, either. Not penny number one. It's just something we do as part of the claim as a whole." 
Bar Admissions:
Alabama State Bar

Tennessee State Bar
Professional Associations:
Vice President, WC Section Birmingham Bar Association 
Honors and Awards:
Workers' Injury Law and Advocacy Group
Just For Fun: Will is married to his wife of 15 years, Erynn, and they have two daughters: Reese and Quinn (and a dog named "Truman" who frequents the WK office). His family loves to travel, experience new things, and learn about other cultures. He's an avid gamer, and prefers Nintendo to Netflix, any day!
you won't pay us anything until we've won your case
Free Consultation
Free Consultation Required
"*" indicates required fields