IT'S MORE TO US, IT'S PERSONAL
Chattanooga Slip and Fall Lawyer: Holding Negligent Property Owners Accountable for Your Injuries
Need a slip and fall lawyer in Chattanooga, Tennessee that you can trust? Turn to Wettermark Keith for a free consultation. 
It happens when you least expect it. You're walking your dog, shopping for groceries, meeting a friend at a restaurant for lunch, suddenly, you slip or trip and go down. It can happen anywhere, and although your first reaction (besides the pain) may be to feel embarrassed for being such a klutz, chances are, you were not the one responsible for your fall. That's right—there is a good chance that the reason you fell was because of an obstacle or slippery surface or some other hazardous condition that someone else caused or allowed to happen, without supplying appropriate warning to the unsuspecting pedestrian—in this case, you!
SLIP, TRIP, AND FALL INJURY AND DEATH STATISTICS
A sudden fall can and often does result in very serious injuries and many more deaths than most people realize.The Centers for Disease Control and Prevention (CDC) reports that approximately 8,000,000 non-fatal injuries and 24,000 fatalities occur every year because of slip and fall accidents. You may be surprised to learn that emergency rooms treat more people for injuries suffered in falls than for car accident injuries.
Fractured bones, paralyzing spinal cord injuries, brain damage, internal injuries, and others that send people to the hospital are often consequences of slip, trip, and fall accidents in Tennessee. Many of these accidents are the fault of some person, business, or government agency that failed in its legal responsibility to maintain their premises properly, avoiding hazardous conditions, and warning the public with signs and barriers when they do occur.
HOW DO SLIP AND FALL ACCIDENTS HAPPEN?
 Obstacles or trash lying on a sidewalk or store aisle
 Damaged, missing, or worn steps on staircases
 Staircases with missing handrails
 Wet, over-waxed or highly polished floors
 Slippery sidewalks from irrigation systems
 Torn, uneven, or otherwise damaged carpet
If you've been injured in a fall due to negligence or were not properly made aware of dangerous conditions, our team. we can help get the compensation that needed for a full recovery.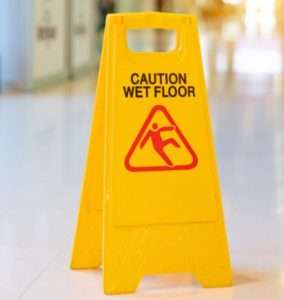 WHAT IS The OWNER'S LEGAL RESPONSIBILITY?
Property owners whose premises are accessible to the public have a legal responsibility to maintain their premises in a safe condition that does not endanger people who are there legally. If you've been injured due to the negligence of the owner or operator of a property who has failed in this responsibility, you are generally eligible to make a claim to recover money as compensation for your medical expenses, lost earnings, and household help for tasks your injury prevents you from doing, along with other expenses associated with your injury. You may also claim compensation for non-economic damages, for example your pain, your physical and mental suffering, your inability to participate in the activities that you enjoy, and other losses related your injury.
WHAT STEPS DO I TAKE IMMEDIATELY AFTER A SLIP AND FALL?
When you've fallen because of a dangerous condition, have someone call for help. You may need to have someone nearby call an ambulance. Make sure the owner or manager of the premises knows about the fall, and report it in writing as soon as you are able.
Your most immediate concern is getting the medical treatment you need. An ambulance will take you to a hospital emergency room, or you can have a friend or family member take you to your own doctor or an urgent care practice. If you are physically capable at the time, take some photos of the scene, including whatever caused you to fall, with your cell phone camera, or ask someone else to do it for you. Ask any witnesses for their contact information. Once you've been seen and treated by a doctor, call a respected slip and fall lawyer.
THE RIGHT LAWYERS IN CHATTANOOGA FOR A SLIP AND FALL
If your accident happened in or around Chattanooga, a top choice for representation in your slip, trip, and fall case is the law firm of Wettermark & Keith. With an outstanding record of bringing in high dollar amount recoveries for clients (totaling more than $750 million since 2003), you can be confident that your case is being handled with the diligence and expertise that the firm's attorneys are known for. Contact us today for a free case review!