IT'S MORE TO US, IT'S PERSONAL
Get Back on Your Feet: Compassionate slip and Fall LAWYERs IN FLORIDA PANHANDLE
Despite having garnered an almost satirical nature in recent times, slip and fall type accidents remain a serious source of personal injury across the country. Slip and fall accidents are primarily the result of wet, uneven, or messy floors. This dangerous surface can be in a public place such as a park, store, or sidewalk or on another person's private property. The risk of a slip and fall accident may be more prevalent than most may think with over 20,000 of them occurring each year, according to the Center for Disease Control and Prevention (CDC).
Contact our expert Florida slip and fall accident attorneys today if you have been the victim of one of these accidents. Our top slip and fall lawyers will make sure your voice is heard and won't back down until justice is served.
PREMISES LIABILITY ATTORNEYS
Slip and fall accidents fall under a section of tort law known as premises liability. In layman's terms, this simply means that the owner or maintainer of an area needs to keep said area reasonably safe to those that may visit or frequent the property. Failure to maintain a safe area can result in slip and fall accidents, of which the owner of the property or lot may be responsible for. Examples of unsafe conditions that cause Florida slip and fall accidents, but not limited to, are:
Unmarked, Wet Floors
Rubbish Left of Floors
Uneven Sidewalks
Loose Carpeting
Uneven Stairs
Faulty Handrails
Exposed Hoses or Wires
SLIP AND FALL ACCIDENTS
These accidents can literally occur at any place — at any time. Primarily the burden of proof largely falls on the victim in a slip and fall accident case. Due to this, it is important to document as much of the scene as possible after your injury. Take photos of the conditions of the area and speak to witnesses if possible. Once you are able to, contact our law office as soon as possible to start the process of filing your claim against the negligent party responsible.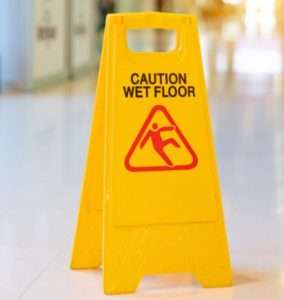 SERVING JUSTICE – ONE CASE AT A TIME
Here at Wettermark & Keith, no case is too big and no case is too small for our expert slip and fall injury lawyers to pursue. Our top attorneys represent each and every client with the utmost respect, compassion, and employ the thorough legal expertise needed to make their case a success. We realize that this is likely a difficulty situation for you and possibly your family and are here for you. Slip and fall accidents are a serious injury and we won't let you be bullied, ridiculed, or taken advantage of after your accident.
If you have been injured due to the negligence of another person in a slip and fall accident, contact our seasoned personal injury lawyers today. Together we can seek a financial compensation figure that meets your needs as a victim and can continue to provide for your, long after this ordeal is over.
NO RECOVERY, NO FEE GUARANTEE
When selecting clients to represent in court, our firm operates on a contingency fee basis. What this means to our clients is simple: if we don't win your case, you won't pay anything. We choose to operate this way for the sole benefit of our clients, we want to see you obtain a successful recovery so that you can continue to carry on with your life.
Contact us today if you have been the victim of a personal injury after a slip and fall accident. Fill out the free case evaluation form on our web site and we will get back to you promptly. If you wish to speak to us directly, feel free to call one of our three branches.