IT'S MORE TO US, IT'S PERSONAL
Veterans Disability Lawyer In Knoxville: Your Advocate for Compensation and Benefits
During their term of service, veterans carry a lot of responsibility. When a veteran is injured in the line of duty or has a condition that is service-related, the responsibility is on the Department of Veterans Affairs, or the VA. The VA oversees the distribution of benefits to those disabled veterans who qualify. However, as many vets have found, getting the financial coverage you need isn't as simple as applying. In fact, it's common for Tennessee veterans to hire a veterans disability lawyer in Knoxville to help them with their application or appeal.
There is a lot that goes into a VA disability claim in Knoxville, TN, and our disability attorney can help. Below, we answer some of the most common questions regarding veterans' disability benefits.
How to Know If You're Eligible for VA Disability
There are layers of eligibility that you will need to prove to the VA to ensure you get the benefits you need. The first is proving that you are currently experiencing a condition, either mental or physical, that disables you to a significant degree. Secondly, you must prove that you served in active duty at some point in your life. Those two things are most important in your application, but to make it more likely that you'll be awarded disability compensation, you can't stop there.
You must prove a link exists between your condition and your time serving in the military. It's not enough just to say that you have developed a condition after active duty; you must also prove that the condition was started in service, made worse by service, or was caused over a period of time due to your service. If these things are true for you, you qualify to apply for VA disability benefits!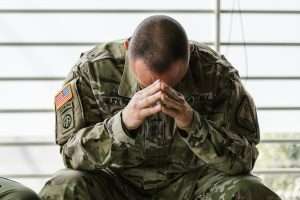 What to Expect in the VA Disability Process
Because so many people apply for VA disability every year, the application process has several steps and is very detail-oriented. Nearly one-third of all veterans disability applications are rejected. Some are rejected because they fail to prove a link between disability and service, and others are rejected because the veteran failed to properly complete the process. Having a VA disability lawyer in Knoxville on your side can help you to make sure you provide the VA with everything they need to make a decision in your favor.
Types of Service-Connected Disability Claims
There are many types of service-connected disabilities you may be facing or that you may be eligible for. Though these categories are some of the largest and most well-known, there may be other claims you need to make to get the proper benefits. To know if there may be a specific category your disability cases fit into, reach out to our disability lawyer.
Presumptive Conditions
For several conditions or factors, the VA assumes that you are eligible for compensation. For instance, if you were a prisoner of war (POW) for any length of time, there are a number of diseases that you can claim that the VA will grant benefits for, with almost no questions asked.
Agent Orange
If you served in Vietnam between January 9, 1962, and May 7, 1975, you are eligible for benefits coverage, as it is assumed you were exposed to the chemical Agent Orange during your service, which has links to many various diseases.
Housing Grants
If your home is no longer suitable for you because of your condition, you can apply for a housing grant to modify your existing home or buy and modify a new one to meet your needs. To receive this grant, you must have faced a serious loss of limb or functionality.
These and many other veteran benefits may be able to ease your financial burden. Get the legal advice you need from a trusted VA benefits attorney.
Wettermark Keith: Veterans Disability Lawyer in Knoxville
We know that trying to get disability benefits can be overwhelming and leave you feeling alone. Wettermark Keith's veterans disability lawyer in Knoxville has walked through applications and appeals with dozens of veterans and successfully helped them to get benefits from the VA. As you consider your VA application, we hope you choose our law firm and our veterans and Social Security disability attorneys to help you with whatever you need.
Related Articles