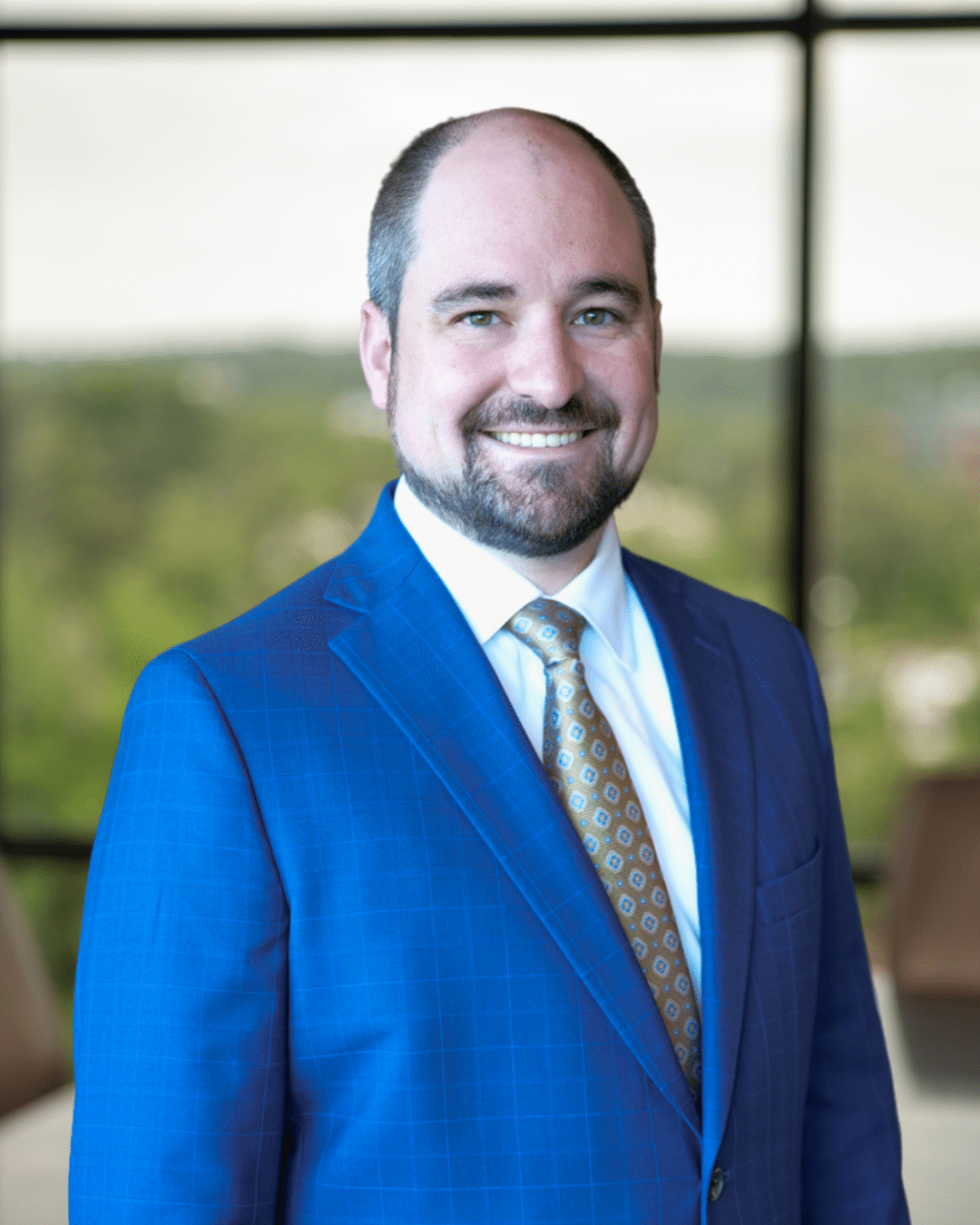 Intro: Mark English has served our clients as a personal injury attorney since 2021. His practice has been primarily focused on auto and trucking accidents, commercial vehicle crashes, premises liability cases, and a variety of general tort claims. As a personal injury attorney, Mark advocates for clients who have suffered injuries and other damages as a result of someone else's negligence or intentional harm. He takes pride in knowing that his unique knowledge and skill set allows him to provide the type of help many of these clients would not otherwise have access to, and he is passionate about advocating on their behalf.
Background: Mark was born and raised in Chelsea, Alabama to parents who worked in engineering and project management. When he graduated from Chelsea High School, he fully intended to work as a pipefitter welder, never considering he might have an aptitude for law. After obtaining his certifications in welding, Mark began searching for jobs right out of high school. At his mom's request, he applied to one school - the University of Alabama. When he got in, he agreed to try it out for one semester. This decision changed the trajectory of his career. Mark fell in love with the school and graduated in May 2013 with a Bachelor of Science in Criminal Justice.
After completing his undergraduate studies, Mark attended Cumberland School of Law at Samford University, where he served as treasurer for the Student Bar Association and graduated in 2015 with his Juris Doctorate. Intent on becoming a criminal prosecutor for the state, Mark clerked at the Montgomery attorney general's office and the district attorney's office in Jefferson County. He knew for certain that one; he wanted to be in the courtroom, and two; he wanted to help crime victims prosecute those who had wronged them. Mark soon discovered that he could still help victims in a different area of law - personal injury. In 2015, when one of his professors offered him a clerking job at his advertising personal injury firm, Mark seized the opportunity. He obtained his license to practice that year and has worked in personal injury since. 
Mark's "Why": Mark's passion for helping injured victims stems from an experience that deeply impacted him during his late teenage years. He learned then that when he was two years old, his uncle had been violently murdered on his mother's birthday, and his family had no one to turn to for legal assistance. Mark's resolve to rectify this type of injustice led him toward a career in law. 
Mark understands on a personal level that being harmed by the negligent or malicious actions of another can have a significant impact on a person's life, and is committed to helping each of his clients recover physically, emotionally, and financially. Understanding that pursuing a personal injury case can be a stressful and challenging experience, he believes in taking the time to build personal relationships with his clients so they feel comfortable and supported throughout the process. 
Mark appreciates that at Wettermark Keith, lawyers are encouraged to try more cases than those at other firms. In his words: "I'm not comfortable telling you [a client] to settle for this top settlement offer that this insurance company has given you - I think that this is an environment and a characteristic of the firm as a whole that we try to focus on. Is this actually the best that we can do for our client? And if it's not, then we're taking the case to trial."
Bar Admissions:
Alabama State Bar

Supreme Court of Alabama

Federal District Court for the Northern District of Alabama

Federal District Court for the Middle District of Alabama

Federal District Court for the Southern District of Alabama
Professional Associations:
Alabama Association for Justice

American Association for Justice

National Trial Lawyers

Birmingham Bar Association
Honors and Awards:
Super Lawyers Mid-South Rising Stars 2023

National Trial Lawyers Top 40 Under 40 (2021, 2022, 2023)
Publications:
American Journal of Trial Advocacy Volume 38:3
Just For Fun:
When he's not in the courtroom or with a client, Mark is probably spending time with his family or pursuing one of his many hobbies. A devoted father, Mark enjoys coaching his five-year-old's baseball team and watching the kids have fun while developing their skills on the field. One of his passions is cooking, which he developed a love for during his college years. He enjoys planning meals for his family and trying out new recipes, and has a particular fondness for standing outside with a prime rib on the grill. Mark is also a passionate fan of Alabama football, and can often be found in Tuscaloosa on Saturdays cheering on the Crimson Tide. During the off-season, he enjoys spending time outdoors hunting and fishing. 
you won't pay us anything until we've won your case