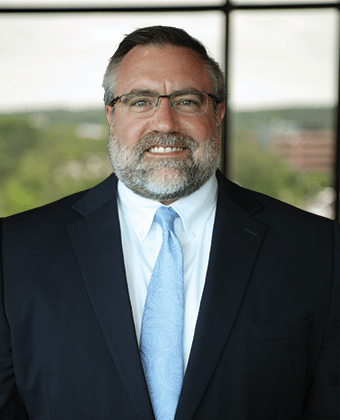 Intro: Darrell joined the Wettermark Keith family in 2022 to serve clients as a personal injury attorney. He has years of legal expertise in premise liability claims and all types of automobile accidents, including 18-wheeler and motorcycle crashes. His previous experience also includes indigent criminal defense and representing those who have been injured through their exposure to asbestos-containing products.
Background: Darrell grew up in LaFollette, Tennessee, but has lived the majority of his adult life in Knoxville. Prior to working at Wettermark Keith, Darrell received his BA from the University of Tennessee at Knoxville. He continued on to earn his Doctor of Jurisprudence from the Mississippi College School of Law, and was admitted to the Tennessee Bar not long after. Darrell is well recognized for his achievements in personal injury law - he is a past president of the Campbell County Bar Association. As an attorney, Darrell started out working for a small law firm handling everything from criminal defense and probate cases to personal injury cases. Later, he worked for a larger firm, where he specialized in handling asbestos injury claims. Immediately prior to joining Wettermark Keith, he spent four years working for a regional firm, handling exclusively personal injury cases. 
Darrell's "Why": Darrell's upbringing gave him a passion for helping those who may have not had the expertise or resources to handle the serious problems that can arise in life. During law school, Darrell completed a fellowship with the Mississippi Center for Justice, where he worked to end predatory lending by for-profit colleges. This experience solidified his passion to be a zealous advocate for those harmed by no fault of their own.
Bar Admissions: 
Just For Fun: When not working for our clients, I spend my time with my wife, Whitney. We have two children, Aubrey and Grant, and an English Bulldog named Penny (who's the star of the show), along with two cats, Pepper and Pickles. Though he has his hands full, Darrell spends what little remaining time he has cheering on the Tennessee Volunteers and the New York Yankees. 
you won't pay us anything until we've won your case